Displaying items by tag: rock music
Sunday, 29 August 2021 23:05
Interview by Vsevolod Baronin. 
Taken on 10/25/2008, Moscow, Russia. Originally published in Russian.
What is eccentricity for a world-class rock musician? Play 20 notes per second? To patent a seven-string electric guitar? To record a live album with an unheard-of and unimaginable creative concept? Or, finally, go on tour with master classes in Russia, not excluding cities like Ryazan that are quite unique for a musician of such level? Well, since Steve Vai, who does not need the introduction as the electric guitar maestro, did all of the above, we can award him the title of rock eccentric #1. Surprisingly, when communicating in person, Steve turned out to be not at all the character that his music and stage shows represent, but a very polite interlocutor who answers even the trickiest questions in great detail. Steve's answers, of course, sometimes radiate hints of the aforementioned eccentricity and that's why they are good: they allow you to look at familiar concepts from a completely unexpected side, which, perhaps, would never have occurred to a person who is not a rock guitarist of a truly galactic level.
Monday, 07 August 2017 08:49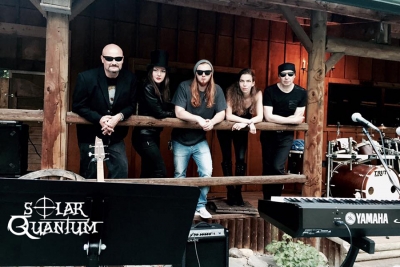 Artists taking the stage at The Blue Boy Golf Course Aug. 12
An eclectic blend of artistic and musical backgrounds are coming together for a summer party at The Blue Boy Golf Course outside Monroe.
The Suley En Vogue Summer Bash will host Terry McDermott, the runner-up on the third season of The Voice, and Seattle-based band, Solar Quantum, on the same stage Saturday, Aug. 12.
It will be a return to old stomping grounds for McDermott, the seasoned singer and former member of Lotus Crush, and a debut performance for the up-and-coming progressive rock group. The Suley En Vogue Summer Bash will also feature a swimsuit fashion show, and pre-event golf 9-hole tournament at 1:30 p.m.
Solar Quantum lead singer Lina Light said she has one plan for the performance: "To bring and get back a lot of energy."