Displaying items by tag: glamour
Monday, 27 November 2017 23:20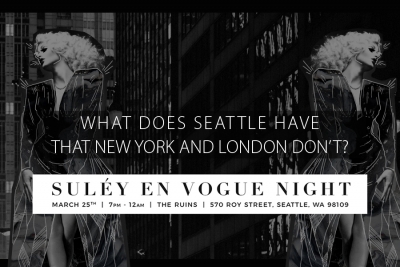 Seattle, Washington (November 27st, 2017) - SULÉY en Vogue Night event series was launched in 2016 at a historical Sorrento Hotel and it became extremely popular, making it the hottest and most upscale networking party night in Seattle.
Join us to celebrate this Holiday season, have fabulous evening with amazing, like-minded people who love to get dressed up en vogue, connect, and have fun. SULÉY en Vogue Night will bring you a sensual experience and vibrant atmosphere of bohemian lifestyle, great conversations, creative performances, and opportunity to make new connections.
Tuesday, 14 March 2017 00:49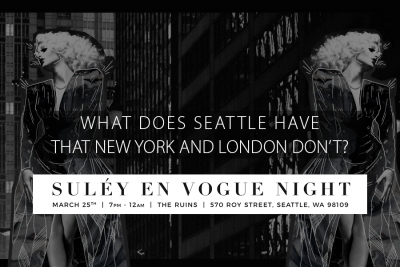 Written By: Vilte S. Rooney
Seattle, Washington (March 1st, 2017) - SULEY ERA opens the 2017 season with their fifth SULEY en Vogue Night on March 25th, an event for influencers in technology, fashion, music, art, film and entrepreneurship. The SULEY en Vogue Nights of the year 2017 will be held at the exquisite luxury private club, The Ruins in Seattle.
After successfully launching four SULEY en Vogue Nights in 2016, multimedia promotional platform SULEY ERA is bringing together the city's creative and influential people in various creative and innovative industries to connect with like-minded professionals and artists.