"We are so grateful for this unexpected grant!
This is such a huge help as we are getting ready to make our next album."
- Jessica Dobson, Deep Sea Diver
The pool of artists represented and awarded by Sonic Guild Seattle completely destroys the old myth about the Seattle music scene as gloomy and depressed and uncovers a bright array of music genres and styles from R&B soul, rap and hip-hop, jazz fusion, country, hard rock, and of course indie and alternative. The award helped us to discover these exceptional talents and opened for them more opportunities to record new music, inspired them with new creativity, and electrified their artistic energy to be felt and heard across the nation and beyond.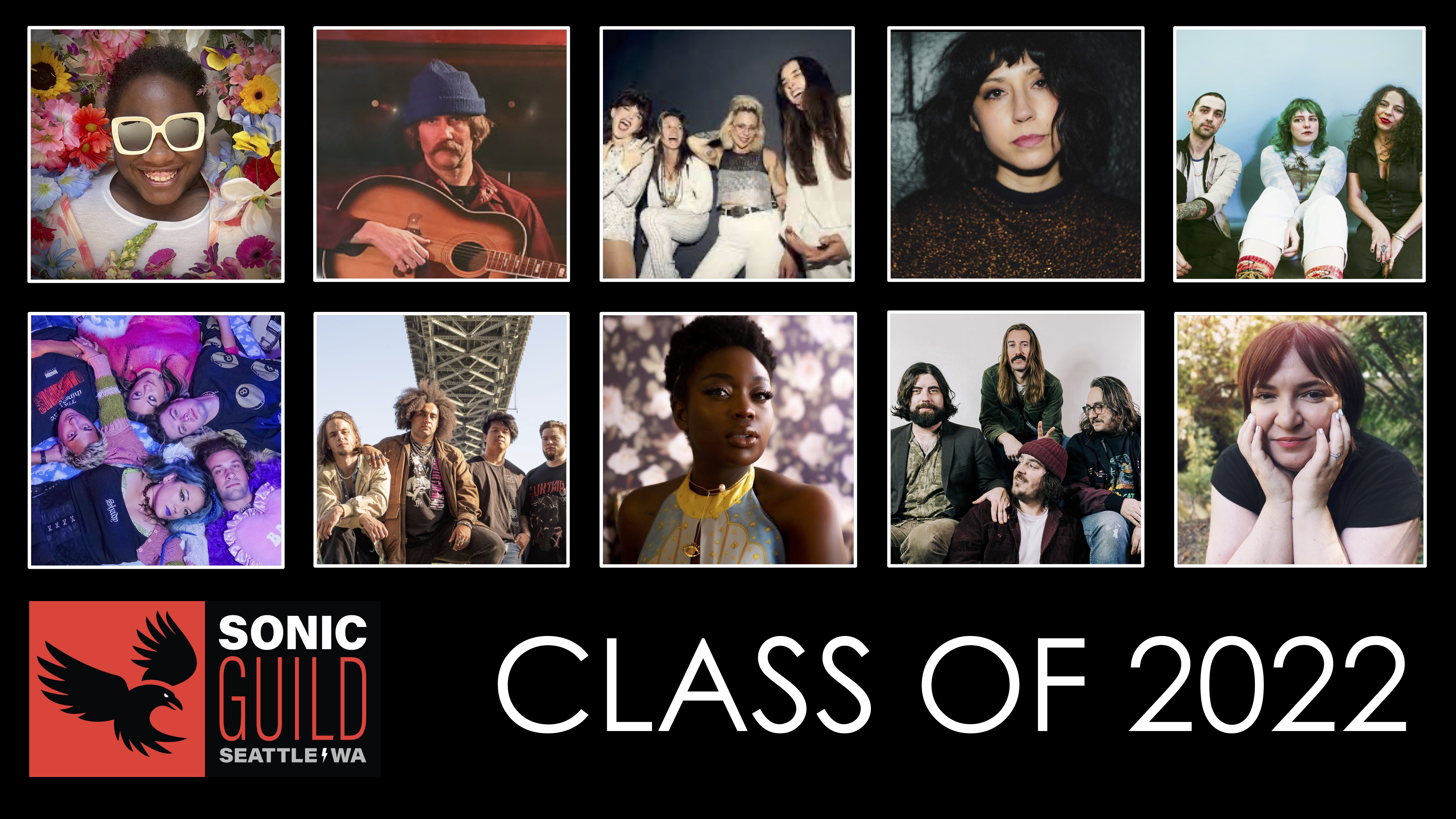 2022 Sonic Guild grant winners. Courtesy of Sonic Guild
"Wow wow!! What an honor! THANK YOU Sonic Guild for including us in your class of 2022!!
And what an absolute rockin class to be part of! Your support will not only help us on our upcoming tour
but in finishing our new record! It's TRUE!! New TPLPII on the way!!"
- Thunderpussy
Becoming a professional music artist has been hard and challenging at all times, and breaking through the music industry obstacles and roadblocks, through life hustles and hurdles, could easily ruin the sensitive and vulnerable will and soul of the inspiring talent. Furthermore, the music industry has been on a constant and steep decline in the last 20 years, losing record sales revenue to skyrocketing invasion of online streaming platforms developed by tech geeks and funded by venture capital and not by musicians and not by musicians in mind. These platforms devalued the artistry of music, and their absolutely unfair system of royalty distribution not only severely cut the incomes of big-name stars but left many independent artists to struggle between full-time day jobs, practicing their crafts, rehearsals, gigs, recording sessions, and learning new trade of being self-promoter, self-marketer, blogger, and social media guru.
"I was in complete shock when I received a phone call letting me know I'd been nominated
and selected to receive an artist grant from Sonic Guild. I'm grateful to be included in such a powerful roster of talent,
and inspired by the work of Sonic Guild and all they do to help artists keep doing what we love most.
Now pardon me as I start brainstorming on my 4th record..."
- Cumulus
Brittany Davis: Tiny Desk (Home) Concert
Thunderpussy - Never Know (Official Video)
Cumulus- Sunbeam (Official Video)
Small Paul - Stranger in a Strangeland
In 2013, in Austin, TX, a group of music industry enthusiasts established a non-profit organization Sonic Guild, previously known as Black Fret, to provide support to emerging talents to help them with music creation, recording, and performing. Since 2014 the organization opened chapters in Seattle (2020) and Colorado (2021) and has helped more than 180 music artists and bands with more than $3.5 million in grants.
Despite the COVID-19 pandemic, which hit the music industry extremely hard and imprisoned artists inside their homes, forcing them to perform from their bedrooms in front of their laptops and mobile phones, Sonic Guild Seattle chapter managed to grow and increase its 2022's grant pool by 45% supporting musicians, helping them to overcome the stagnation of the lockdown. 
"This grant is truly a blessing. I am so honored that Sonic Guild in my community believes in my music.
Because of this funding, I will now be able to buy a specialized computer that will allow me
to create music at a new level. Thank you so much for this gift."
- Brittany Davis
Shaina Shepherd - Never Be Another You (OV)
Deep Sea Diver - Christmas at The Crocodile
La Fonda - Wanting More (official video)
King Youngblood - Home Is Only a House
HOW SONIC GUILD WORKS
Sonic Guild has built a new model of philanthropy to support the creation and performance of popular local music. It became possible thanks to Sonic Guild Members who contribute with annual dues ($750 for an individual, $1,500 for a dual, or $3,000 for quad membership) and with the help from individual & corporate donors, various foundations and government organizations, and through strategic partnerships.
Sonic Guild members enjoy access to monthly privately curated performances by local musicians. Along with a panel of music industry advisors and past Sonic Guild grant recipients, members also have the right to nominate artists for yearly grant consideration, and they can vote for grant dollars at the end of each season.
"It's no secret that I love our city and its music community. Sonic Guild provides valuable support
to Seattle's musicians as they work to take their music to the next level. If you love music like I do,
then consider joining Sonic Guild and support the future of Seattle music."
– Mike McCready, Pearl Jam
HOW TO HELP, GET INVOLVED AND JOIN SONIC GUILD
It is vital to continue to support the art of music and local talents and to keep the movement growing. One of the best ways to become a part of the Seattle music community is to join Sonic Guild by going to sonicguild.org/membership/
Sonic Guild is a 501c3 public charity and tax deductible donations can be made at
Dean Johnson | "True Love" | Western AF
COMMUNITY
In addition to the work Sonic Guild does to support musician career development, they work with other non-profit partners to support the larger Northwest music community including curating the annual SMASH (Musicians Access to Sustainable Healthcare) Benefit Concert that in 2022 raised over $220,000 to support SMASH's mission to provide access to free and low-cost medical, dental, and mental health services for working musicians in the Puget Sound area, produced events for Bloodworks Northwest as part of their Music's in Our Blood campaign that cultivated over 18,000 new and re-engaged blood donors and provides ongoing curation assistance for the annual SMOOCH (Seattle Musicians for Children's Hospital) Benefit that's raised approximately $30,000,000 to date for uncompensated care at Seattle Children's Hospital. Sonic Guild is also currently working to support the United Way of King County's annual 2023 Eat Drink and Be Generous Event.
"Sonic Guild believes it is important that all the music related non-profits in our community find ways to support each other" said Sonic Guild Seattle executive director Ben London. "Musicians are the lifeblood of our city and by working together we can create new ways to support their complete physical, emotional and economic health."
PAST SONIC GUILD GRANT RECIPIENTS
CLASS OF 2021
Acid Tongue, Beverly Crusher, Black Ends, Caitlin Sherman, Da Qween, Parisalexa, SassyBlack, Shelby Earl, Sol, True Loves, Zan Fiskum
CLASS OF 2020
Bearaxe, Chong the Nomad, Naked Giants, Sera Cahoone, Stephanie Anne Johnson, The Black Tones, Smokey Brights, Tomo Nakayama, Tres Leches, Whitney Mongé
"We are so incredibly thankful for Sonic Guild. This grant makes our childhood dreams come true of seeing
the album we wrote and recorded over the last two years be pressed to vinyl. With these funds, our band will have
the opportunity to elevate our distribution and promote this record as independent artists"
- La Fonda
SONIC GUILD 2022 SPONSORS & SUPPORTERS
Pearl Jam's Vitalogy Foundation, The Head & The Heart's Rivers & Roads Foundation, Tito's Vodka, Amazon, Microsoft, City of Shoreline, Port of Seattle, The Bradley Family Foundation, The Raynier Institute and Foundation, SITY Foundation, Arts Fund, Department of Commerce, King County Creative, The Recording Academy, The M.J. Murdoch Charitable Trust, Gibson Guitars, Flatstick Pub, BMI, Bloodworks Northwest, Big Rock Productions, Northwest Polite Society and Sleight of Hand Cellars.
| | | | | | |
| --- | --- | --- | --- | --- | --- |
| | | | | | |
| | | | | | |
| | | | | | |
| | | Department of Commerce | SITY Foundation |   |   |
"We believe the world cannot become a better place to live unless we all contribute. The Bradley Family Foundation,
as a champion of Sonic Guild, collaborating to make a difference in their support of emerging musicians,
enriching our community through creating and performing original music, resonates with our Foundations' goals and objectives."
- Carl Bradley, The Bradley Family Foundation
FOLLOW SONIC GUILD ON SOCIAL MEDIA: