Displaying items by tag: David Tupaz
Sunday, 28 November 2021 06:13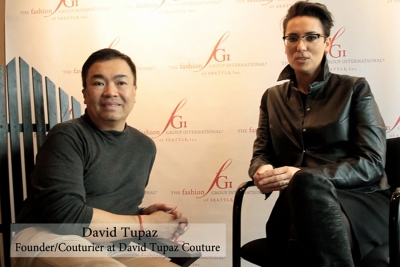 Interview with the designer David Tupaz at the couture installation "Fashion Retrospective" at the Art Institute of Seattle.
David Tupaz is an artist and a fashion "couture" designer. The only established designer in Nevada. Representing Las Vegas in every major Fashion week in the country. He is a regular on the red carpet, dressing celebrities, and movie stars during award seasons. He is the founder of the "Las Vegas Fashion Design Council," a non-profit that mentors local designers, creative youth, students, artists, and others. He mentored in opening a manufacturing presence in the city to jump-start the creation of a local fashion industry as well as attract other manufacturers from other states, particularly California where 85% of American-made apparel is produced.
"Fashion Retrospective" was a couture installation at the Art Institute of Seattle organized exclusively with Fashion Group International. David Tupaz showcased 15 pieces that he brought directly from Las Vegas.