Beach Weather music radiate hot energy of the summer and charge fans into boisterous dancing, and electrifying fun. They engage their audience with the same high level of interaction either in small clubs or on open air arenas, and there is no big or small stage or venue, which they wouldn't be able to conquer.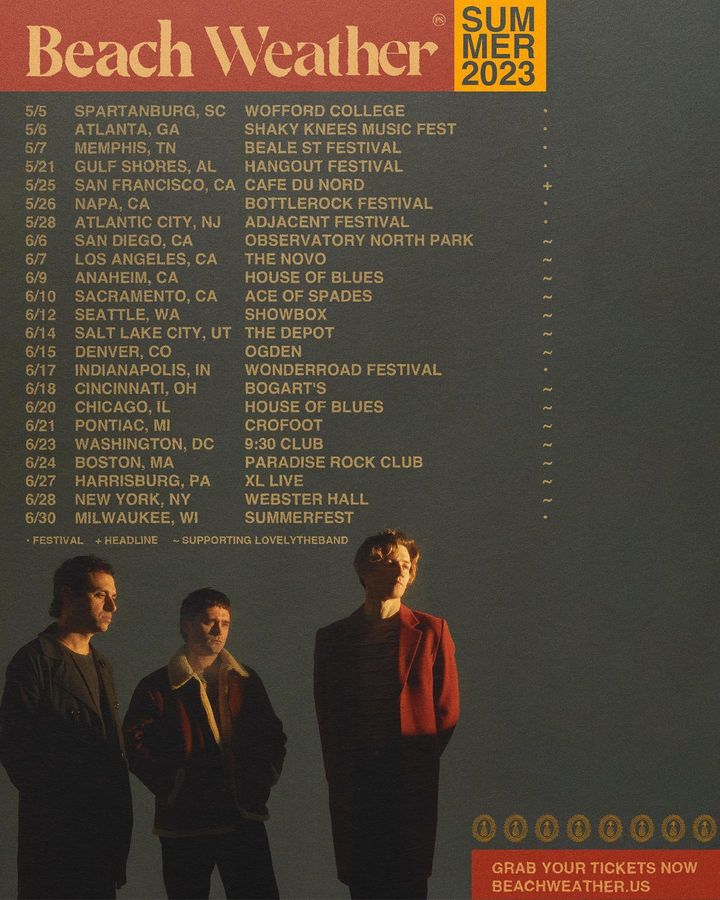 For tickets and venue information, visit:

To spice up the tour, Beach Weather on June 2nd, 2023 released a brand new version of their single "Unlovable" featuring vocalist Heather Baron-Gracie from Pale Waves, an English rock band from Manchester. Heather's blissful and uniquely recognized voice added a fresh feel and contrasting bright coloring to the soundscape of the single, especially to its choruses.
 "Their new single blends the group's signature indie-rock influence with a smooth R&B sound, and serves as another exciting example of what's to come." - Alt Press
Beach Weather - Unlovable (Lyric Video) ft. Pale Waves
Pale Waves are an English rock band from Manchester, formed in 2014. It was founded originally as Creek when lead singer and guitarist Heather Baron-Gracie met drummer Ciara Doran while attending university in Manchester. The other members are guitarist Hugo Silvani and bassist Charlie Wood, completing the lineup. Pale Waves's early work is often described as 80s-inspired indie rock or synth-pop; their second and third albums, however, owe more to the pop-punk genre.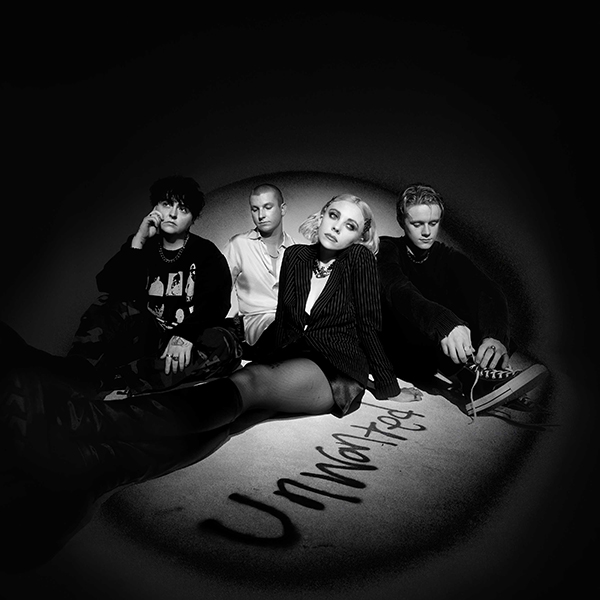 After signing a record deal with Dirty Hit in 2017, Pale Waves released their debut single, "There's a Honey", followed by "Television Romance". In 2018, the band were ranked fifth in the BBC Sound of 2018 poll and won the NME Under the Radar Award at the NME Awards. Pale Waves' debut EP, All the Things I Never Said, was released in February 2018, followed by their debut studio album, My Mind Makes Noises, on 14 September 2018. The band's second album, Who Am I?, was released on 12 February 2021, and peaked at number three on the UK Albums Chart; the record also hit number one on the UK Independent Albums Chart. The band's third album, Unwanted, was released on 12 August 2022.
About Beach Weather: 
Formation of Beach Weather was preceded by a decade long friendship between musicians Nick Santino and Sean Silverman who wrote the band's debut EP What a Drag, which was released on August 28, 2015, via 8123 record label, adding to initial lineup bassist Reeve Powers, lead guitarist Ian Holubiak and drummer Austin Scates after being invited by The Maine to open for their Free For All 2015 Tour. Within next couple years, they recorded two other EPs - Chit Chat (2016) and Basement Sessions (2017), and logged quite a few miles on the road, building an audience one show at a time.
Since then, life has happened. Santino built a career in graphic design, got married, and became a dad (twice). Silverman furthered his career in music production and songwriting. Powers survived a tornado and got engaged but also stayed in the industry – touring and writing for Nashville artists, and editing for a video production company. The guys stayed connected. Santino remembers, "The conversations keep circling back to a mutual desire to make music together again. It turned into, 'if you guys were down, I'd be down.'"

While living in three separate states, the band remotely started sharing voice memos, titles, and ideas that eventually evolved into Pineapple Sunrise. Around the same time, "Sex, Drugs, Etc." organically caught fire. A sync on Spanish language NETFLIX drama Control Z stirred up initial buzz. On social media, TikTok users implemented the song in a myriad of ways, touching every facet of culture from Stranger Things to K-pop.
The success transferred over to streaming platforms as the track has amassed 400+ Million streams and is officially Gold certified in the US. It remains Top 10 at Alt (#1 most played at KROQ and 98.7) since reaching #1 this past October.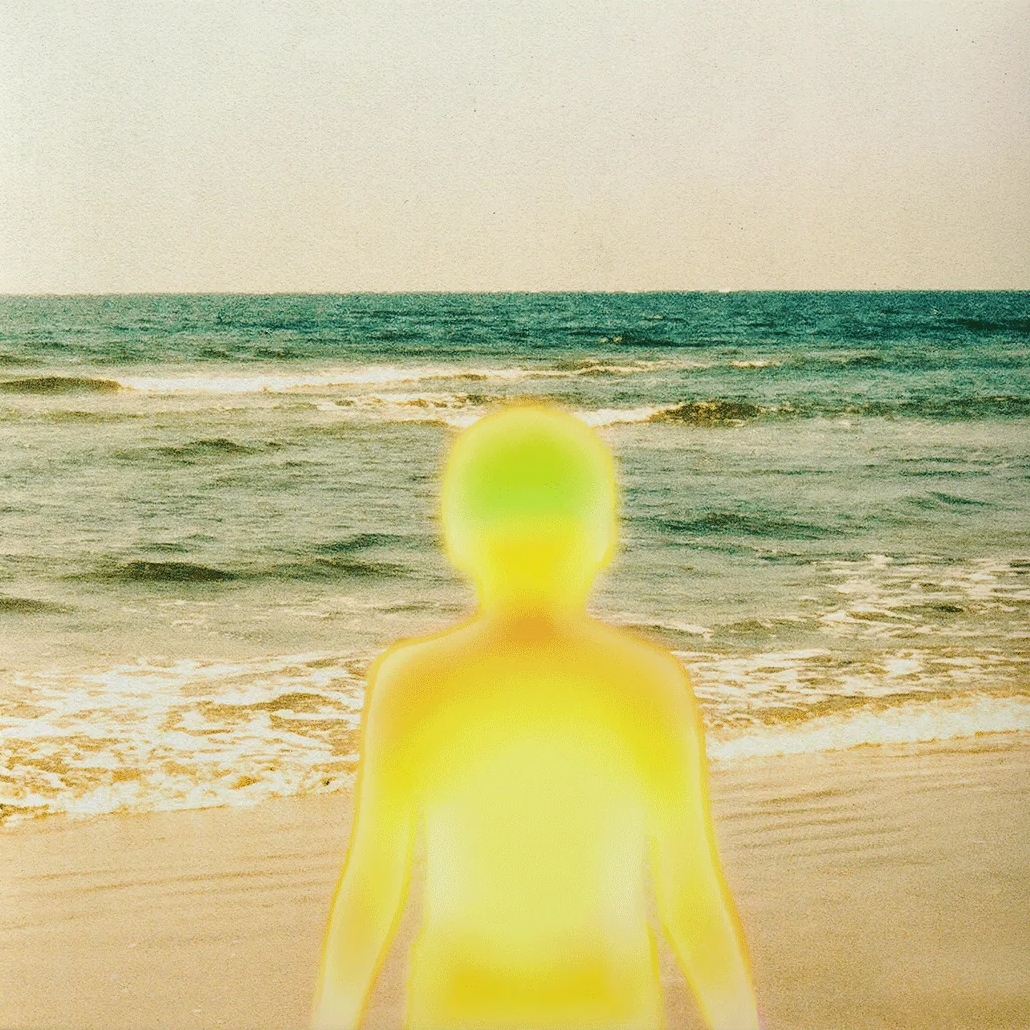 Order  the Pineapple Sunrise album here:
"We never thought 'Sex, Drugs, Etc.' would be the song people gravitate to,"  he admits. "I can relate to the meaning of it personally. It's about having anxiety. I don't really go out. I'm not a big party guy. I'm the opposite; I'm a homebody. It's amazing to see a lot of listeners identify with it."

They'll undoubtedly identify with what the band has in store on Pineapple Sunrise as well. The single "Unlovable" begins with a laidback verse punctuated by claps. It culminates on a chantable chorus awash in fuzzy distortion as Santino pleads, "Oh no, oh my God, how'd I get so damn unlovable?"
"In a way, it's a self-deprecating anthem," he observes. "You feel crazy, you're trying to figure out your own brain, and you're locked out of your own head. You ask, 'Why am I unlovable?' It's a relatable idea though. Musically, there's a lot of energy to it. It's one of the heavier rock tracks, but it's still Beach Weather."
"When you listen to us, I hope you feel like you discovered something new and fresh,"  he concludes. "All of our songs are different from one another. We want you to play our music on a long drive through the desert or at the beach relaxing at night. We've all experienced so much in and out of music. Now, we found our comfort zone with Beach Weather, and we're just kind of loving it."