VB: The first information on your demo collection with Squares came back in the end of 80s. I remember some information on its possible release back then, but why this CD have seen the light of day only right now?
JS: I think there were a number of factors. We had a good amount of time and experience restoring original analog tapes that myself and John Cuniberti had done for our Chrome Dome project. We had finally amassed all of our recordings over 40 years, and they were in perfect digital form.
And we just had a few more to do to complete the entire catalog. This included the Squares material. And so after doing the Beyond The Supernova documentary and the Chrome Dome, we felt confident that we had a good approach to looking at the Squares material, transferring it to the best digital conversion and then producing the band as if it were a brand new band of young musicians that wanted to play early 80s music. And that really inspired us to complete the record.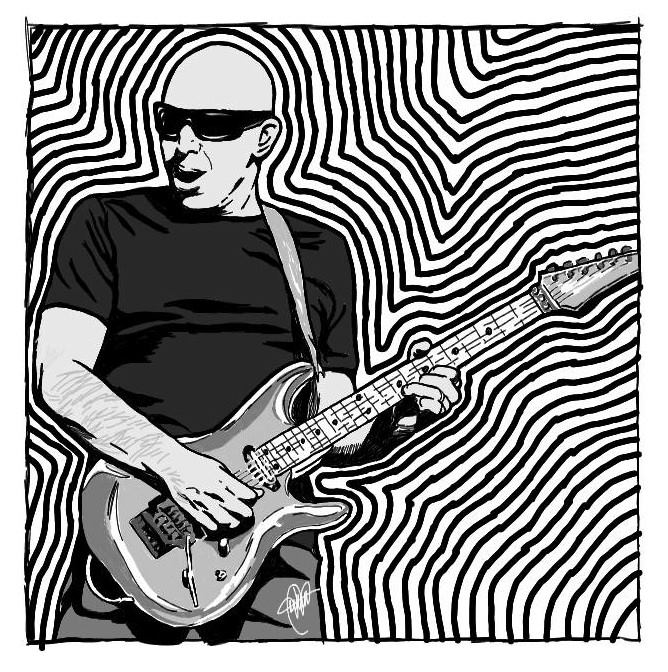 Photoart by David Moraes
VB: Everybody knows that you were high profile guitar teacher at the dawn of your career, but how did you come with music idea and line-up of Squares?
JS: Well, the original idea as a band, you know, that was something that I had sort of brainstormed with my brother in law in the late 70s.
We had both moved out to California from New York separately. We had known each other since I was ten years old. He was my older sister's husband at the time. And so we had a long history of playing music together, but one of the things we'd never done is to try to put together a band.
So he was, you know, ten years older than I was. And he decided he would be the manager. I would write the music and we went out and looked for two really good young musicians that would fit our idea of blending rock and metal and 50s rock and roll, 60s beat and rock, and punk music at the time. And so we found drummer Jeff Campitelli, who was 18 years old at the time, and Andy Milton, who had just moved out from Cleveland, Ohio. And he played bass guitar and sang lead vocals. And we started the band in the late 1979 and in December of 1979 was the first time we played together, and we all decided that we were going to be this kind of a band and we were going to try to do something original that no other band was doing at the time.
VB: For me, Squares tracks sounded like very much finished product. So what prevented you from the recording contract with Squares by then?
JS: Well, we were at the time trying to secure a major record deal, and it was common at the time that you, if you were in a band, you would make recordings not to try to release on your own, but actually simply to use these demos to then shop. We used to call that shop it to a major record label like Capitol Records, Warner Bros., RCA… Those were the record labels at the time. And most of them are gone…
But we would put together four songs, and then a year later, we do another four. And that's kind of like how we did it. We could only afford to work on four songs at a time. And unfortunately, we never put out a recording of our own. We never did a self-produced album. And so this was quite of what we wanted to accomplish with this CD — to finally put out a record that shows what the band was really up to during that four-year period.
VB: Some people compared Squares with classic The Police recordings. But what are the music roots of Squares from your point of view? With who can you compare Squares right now?
JS: Yeah, it's very difficult. I think there were variable bands in the last 15, 20 years that came out like Green Day, and Sum 41, Blink-182, and they were very similar to that part of the Squares that was very sort of tight combination of fast rock and punk.
You know, those bands they were punk bands, but they were all cleaned up and very tight and very musical. Original punk bands were really rough, you know. They weren't cleaned up. So back in the in the early 80s, the Squares wanted to be a clean version of what we love from the British and New York scene punk music.
But we also did combine elements of Cheap Trick, of Van Halen, of The Police. If you went to our live shows, you might think we did one song that was like The Pretenders or Talking Heads. You know, we combined a lot of what was happening around us at the time.
And it's interesting that during that period, it was Saturday Night Fever. There was Van Halen and Ozzy Osborne. There was Pink Floyd, there were Billy Joel, B-Sides, Blondie and Fleetwood Mac. And there was just so much music that was so different. It was quite unusual at the time. And while that was happening, hip hop was growing and it was all happening at the same time. So the band really reflected all those things that were happening.
Squares - "So Used Up" Music Video (Joe Satriani, Andy Milton, Jeff Campitelli)
VB: Yeah, great. But don't you think that your very own songs of Square's influenced some of the songs from LP Love & Rock & Roll by Greg Kihn Band on which you had played?
JS: Not really. You know, the Greg Kihn Band was a local band to us, and we've actually played quite a lot of live shows with them back then. They were a different kind of a band. They were not really into the punk scene at all. They weren't new wave at all. They were really an older kind of American rock and roll sound, and that was the one thing that we have never really capitalized off of. Greg was admittedly an amazing lead singer and frontman, and we as Greg Kihn Band had a whole different show that was based on his personality. We were more of a power pop band where the three of us presented ourselves together as a singular force.
VB: So personally, I see both Squares songs and Greg Kihn Band material as a kind of a dummy run for your Surfing With The Alien album. How you can describe your influences from Squares and Greg Kihn Band on those material for Surfing With The Alien.
JS: Well, there really wasn't any. Late 1985 I had signed with Relativity Records to distribute my first full length album, Not Of This Earth, so I joined the Greg Kihn Band for one year. During 1986 I worked on slowly writing songs for Surfing With The Alien, but I didn't start recording them until I had left the Greg Kihn Band in November, and I actually spent a month in Sweden with Jonas Hellborg playing around Scandinavia.
It wasn't until I returned to California in December of '86, that I actually started recording an earnest, the material for Surfing With The Alien and, you know, there really wasn't anything, you know, the very fact that we were Americans and that we had a history of playing rock and roll was perhaps our only high end. But Surfing With The Alien is an instrumental album with its own particular style that was completely the opposite of Greg Kihn.
VB: Next is technical question. Which guitar brands you have worked with while recorded with Squares?
JS: They were guitars that I built myself. They were made from parts that were made by a company called Boogie Bodies, and ESP — the Japanese company that made necks, I used Fender parts, Gotoh parts, pickups I think were Seymour Duncan and I used Marshall amps, and I think I'd probably borrowed Martin acoustic guitar and a Coral electric sitar, and that's about it.
VB: Speaking of the 80s, how did your land your gig as lead guitarist for Mick Jagger touring band back then?
JS: It was really by chance. I hadn't really been thinking about trying to audition for anybody at the time. I was actually out on tour, my very first tour supporting Surfing With The Alien; this would have been January of 1988 and early February.
After two weeks of the tour, it just turned out that Mick Jagger was having a hard time finding a lead guitar player to finish his band and I was in the area at the time on tour. I was literally just a few hours away in Boston while he was in New York City.
And by coincidence, Bill Graham and Bill Graham Productions were producing Mick Jagger's solo tour, and I was very close with the Bill Graham production team because they were from San Francisco. And so when somebody mentioned my name as a possible candidate, they knew how to get a hold of me right away.
There were people that were part of the management team and production team that I'd worked with for many years, to be clear. And so that's how I got the call and I did the audition, and Mick really liked what I played, and so there I was. It was very fast. Everything happened pretty quickly.
VB: Were there any invitations for you to "name" bands and artists' backing bands back in later years, apart from Mick Jagger and Deep Purple?
JS: You know, I didn't really pursue trying to become a guitar player in a backup band because mainly in my experience know being in the Squares and then being in Greg Kihn Band taught me a lesson, which was if you can do it on your own if you can be a solo artist, it's so much more rewarding. It's so much more fun, even though the shows might be smaller. At least you're playing your own music, you're in control of the ownership of your music, and you can be your own boss. So every once in a while, I play along, but it was always difficult to be someone that was just hired and it was never as much fun and ultimately, the job would end and you'd be left with nothing. I didn't want to be a side person. I wanted to be in control of writing and recording my own music. So that was my reason for being very selective and who I would agree to play with.
Joe Satriani - Nineteen Eighty (Official Video - Extended Version)
VB: Speaking of Squares once again… Don't you have any ideas to record some pop-rock oriented material in the style of Squares in recent years?
JS: Well, I'm not going to do any more, if that's what you mean, I think the time has passed, but I would hope maybe just for fun that there's a band out there, young band that wants to try to play some of this Squares music live today — that would be fun, but you know, I've moved on. Artists have to just keep moving forward. I keep doing different things. I'm releasing things for my band, for their interest, but I personally have no interest in going back and playing this material.
VB: Can we wait for some more archive releases from you? I mean not only your side activities and projects, but also some of your unreleased solo material, just like your old compilation CD Time Machine?
JS: Well, you never know, I mean, we've been very carefully looking after the catalog, making sure that all the analog tapes are in good shape and transferred to digital, this is something that's just the part of maintaining the catalog. But right now, I'm really more focused on recording new material for another record.